or... 'Twas Plum Tired of Pudding

By James R. Hurst and Zoe Bell Hurst
CAST: Flexible cast of 6 (roughly 3M, 3F) optional extras
SET: Simple set
TIME: About 30 minutes
Script: $5.50

ROYALTY:
$30 First Performance
$30 Each Additional Performance

Sweet Carol Christmas, the orphaned housekeeper for Colonel Rushmore's Cross Stitch Ranch, has two beaux seeking her favor. One is the dashing, pure-hearted cowhand, Silverado Sterling. The other, however, is the diabolic and oily Philip Phlimphlam, who has his sights set on more than one thing! The season's spirit has Colonel Rushmore planning to donate acres of his land to the Tiny Tumbleweeds Orphan Asylum. But Phlimphlam secretly knows the land is worth a bundle to the railroad companies and tries to wheedle the colonel into selling the property to him. When the colonel refuses, our evil villain plots to take deadly and drastic action with an explosive plum pudding! Our only hope is for Silverado Sterling to overcome a blizzard, wolves and a bomb to save the day and of course, win Carol Christmas' heart.
Additional products available:

Production Photos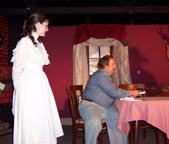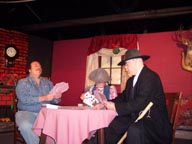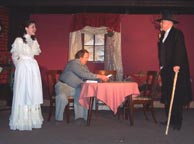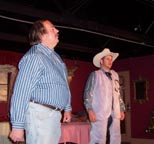 Use this script sample — including the cast list, production notes and several pages of the actual script — to help you select your next show. It is open in a new browser tab or window. To open it again, please click here.
Close
CHILDRENS HOME OF JEFFERSON CO
WATERTOWN, NY
CHARLENE OXOBY
RIO VISTA, CA
CORVALLIS HIGH SCHOOL
CORVALLIS, MT
MONTICELLO HIGH SCHOOL
MONTICELLO, UT
GALLIA VINTON EDUC SRVC CENTER
RIO GRANDE, OH
LOMPOC CIVIC THEATER
LOMPOC, CA
LONE JACK HIGH SCHOOL
LONE JACK, MO
EAST MALTA HUTTERIAN BRETH
MALTA, MT
MOTHER TERESA HALKIRK CATH SCH
HALKIRK, AB, CANADA
BETHEL MIDDLE SCHOOL
WAYNESVILLE, NC
RIVERSIDE MIDDLE SCHOOL
SPRINGFIELD, VT
CLIO CAST AND CREW
CLIO, MI
D'HANIS HIGH SCHOOL
D'HANIS, TX
HIGHER PRAISE CHURCH
MCALESTER, OK
NENA PRODUCTIONS
OCEAN GROVE, NJ
LENNEP PUBLIC SCHOOL
MARTINSDALE, MT
GREATER VISION BAPTIST CHURCH
OWENSBORO, KY
GRACE CHRISTIAN
SHAWNEE, KS
VANCOUVER CHRISTIAN HIGH SCH
VANCOUVER, WA
CLOUDCROFT LIGHT OPERA CO
CLOUDCROFT, NM
AURORA CHARTER SCHOOL
EDMONTON, AB, CANADA
S C LEE JR HIGH SCHOOL
COPPERAS COVE, TX
Close
Different versions of the
same or similar story:
Other titles
you may like:
Other products you might be interested in:
Improvisation for the Theatre (DVD)
This well-done educational video is a great starting point for introducing your middle or high school students to the art of improvisation.
ShowSmarts
An easy to understand guide with step-by-step instructions for making any children's performance a successful and rewarding experience.
Hear what directors and critics are saying:
...a delightful Christmas melodrama.

Children's Book and Play Review