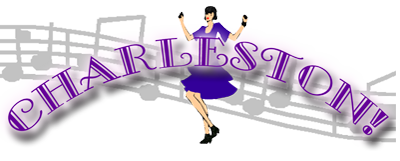 Book by Tim Kelly
Music and lyrics by Bill Francoeur
It's the vibrant 1920s, complete with Ziegfeld girls, raccoon coats, ukuleles, goldfish swallowers and gangsters! Polly Pepper, a young flapper, is about to turn 18 years old and will then inherit an extraordinary diamond necklace. She is planning a wacky birthday party and is inviting all her friends. Buck Wayne, Polly's new boyfriend, wouldn't miss the birthday celebration for anything, even if he has to land his private plane on the lawn of the polo grounds. But watch out, trouble's in the air! Mobsters are planning to grab the necklace and have devised a clever con to crash Polly's party. Thanks to Polly, they're defeated hilariously! Read more...
Additional products available:
Director's book: $20.00
Piano score: $20.00
Vocal score: $8.00
Production-rehearsal CD set: $65.00
CD sampler G: $4.00
DVD of amateur performance: $10.00
Orchestral Parts [Clarinet, Trumpet, Trombone, Tuba/bass, Banjo, Percussion]: $6.00

Production Photos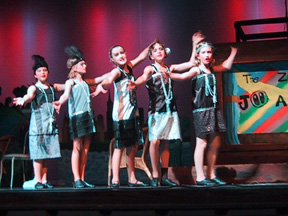 Video Clips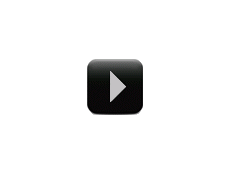 Use this script sample — including the cast list, production notes and several pages of the actual script — to help you select your next show. It is open in a new browser tab or window. To open it again, please click here.
Close
DR LOSIER MIDDLE SCHOOL
MIRAMICHI, NB CANADA
HOLY ANGELS SCHOOL
AURORA, IL
LEBANON MIDDLE SCHOOL
LEBANON, NH
BELLBROOK MIDDLE SCHOOL
BELLBROOK, OH
SOUTHWOOD MIDDLE SCHOOL
MIAMI, FL
BRADFORD ELEMENTARY SCHOOL
BRADFORD, VT
M-NCPPC
RIVERDALE, MD
COEUR D' ALENE HIGH SCHOOL
COUER D' ALENE, ID
HEATHWOOD HALL EPISCOPAL SCH
COLUMBIA, SC
STAGE KIDS CA
SANTA CLARA, CA
CANYON THEATRE GUILD
NEWHALL, CA
ST AGNES ACADEMY
MEMPHIS, TN
GRACE ACADEMY
MATTHEWS, NC
PRESTON PLAINS MIDDLE SCHOOL
PRESTON, CT
ALTA SIERRA INTERMEDIATE SCHL
CLOVIS, CA
ONAGA HIGH SCHOOL
ONAGA, KS
CHESTER PERFORMING ARTS STUDIO
CHESTER, VA
SIERRA TAHOE CHILDRENS THEATRE
SOUTH LAKE TAHOE, CA
UNIV CNTR FOR PERFORMING ARTS
DAVIE, FL
NEW LONDON BARN PLAYHOUSE
NEW LONDON, NH
LAS PALMAS COMMUNITY CENTER
MCALLEN, TX
CEDAR RIVER MONTESSORI SCHOOL
RENTON, WA
OUR LADY OF MT CARMEL SCHOOL
BOONTON, NJ
HOLY FAMILY SCHOOL
SEATTLE, WA
HOLY TRINITY SCHOOL
SAN PEDRO, CA
HOLDERNESS CENTRAL SCHOOL
HOLDERNESS, NH
HAMMONTON MIDDLE SCHOOL
HAMMONTON, NJ
MEAD MIDDLE SCHOOL
MEAD, CO
HOWARD WINNESHIEK COMM SCHOOLS
CRESCO, IA
TIMBERVIEW MIDDLE SCHOOL
COLORADO SPRINGS, CO
BLACK ROSE THEATRE COMPANY
BRANDON, MS
YORKVILLE MIDDLE SCHOOL
YORKVILLE, IL
ST JOHN THE APOSTLE SCHOOL
OREGON CITY, OR
ST PAUL'S LUTHERAN SCHOOL
ORANGE, CA
HOLY FAMILY OF NAZARETH SCHOOL
IRVING, TX
YATES CENTER ELEMENTARY SCHOOL
YATES CENTER, KS
SIERRA MIDDLE SCHOOL
PARKER, CO
HUMPHREY MIDDLE SCHOOL
BOLINGBROOK, IL
WILLOW AVENUE ELEMENTARY
CORNWALL, NY
SPRINGMAN MIDDLE SCHOOL
GLENVIEW, IL
PINE RIDGE PCA
ORLANDO, FL
STAGE ONE YOUTH THEATRE
RICHMOND, IN
FRIENDSWOOD JUNIOR HIGH SCHOOL
FRIENDSWOOD, TX
ST MARY MAGDALEN SCHOOL
EVERETT, WA
ST MARGARET MARY SCHOOL
ALGONQUIN, IL
CALLANAN MIDDLE SCHOOL
DES MOINES, IA
Close
Different versions of the
same or similar story:
Other titles
you may like:
Other products you might be interested in:
Step By Step Instructional DVD
Viewers will see with on-screen demonstrations how to teach simple movement to non-dancers, how to adapt that movement to different styles and how to make a show look terrific in the process.
Listen to a clip of every song from the show
Click on a song title to play that sound clip. Click again to pause, or simply click another title to switch songs.
Can't hear the song samples? Click here for a different song format.