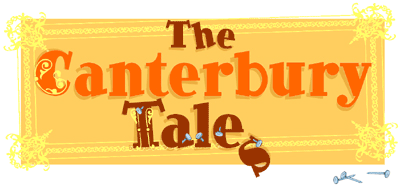 Or... Geoffrey Chaucer's Flying Circus

By Burton Bumgarner
CAST: Flexible cast of 15-60
SET: Representative sets
TIME: About 90 minutes

Script: $7.00 Director's book: $20.00


ROYALTY:
$60 First Performance
$50 Each Additional Performance

Many believe that Chaucer's literary masterpiece revolutionized English literature. Now you can revolutionize the study of this challenging literature by tossing in a good helping of Monty Python-styled humor to create this incredibly silly yet educational comedy. You'll meet many of the pilgrims whose tales are most likely to be studied in high school (along with a few Thanksgiving pilgrims that ended up in the wrong play!), including the knight, the miller, the parson, the pardoner, the nun's priest and the friar. Even the wife of Bath has cleaned up her act for this adaptation and is now a nagging woman who sells self-help DVDs! The miller, too, makes an appearance, though nobody wants to hear anything he has to say! Read more...
Additional products available:
Director's book: $20.00

Production Photos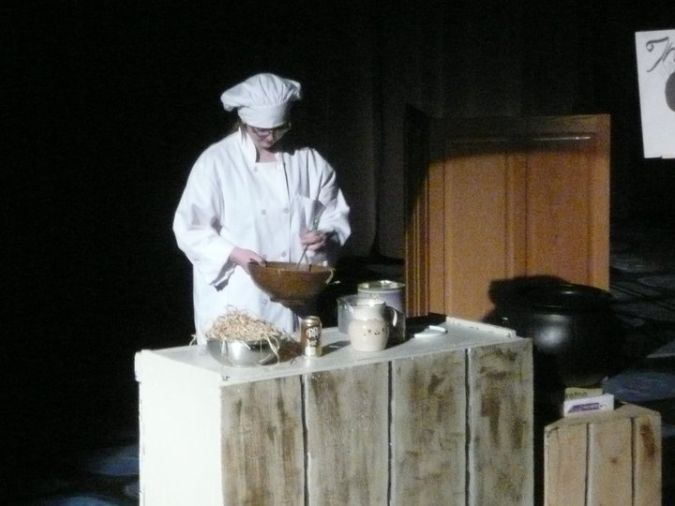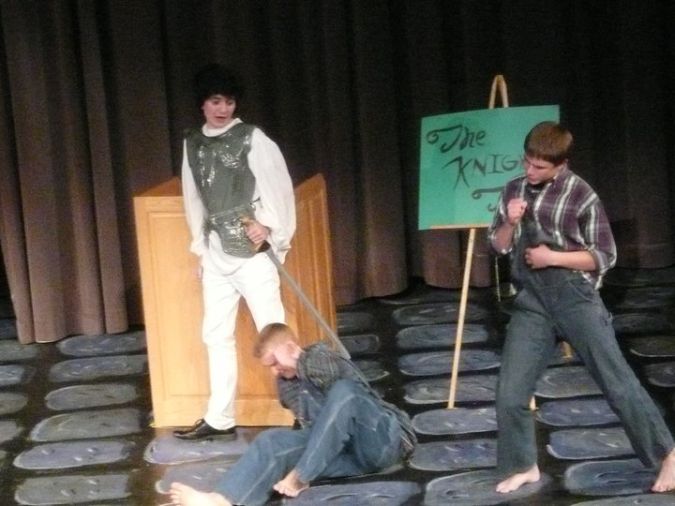 Use this script sample — including the cast list, production notes and several pages of the actual script — to help you select your next show. It is open in a new browser tab or window. To open it again, please click here.
Close
SIERRA MIDDLE SCHOOL
PARKER, CO
FOREST CITY HIGH SCHOOL
FOREST CITY, IA
HORIZON MIDDLE SCHOOL
KISSIMMEE, FL
ORONO MIDDLE SCHOOL
ORONO, ME
CALEDONIA-MUMFORD MIDDLE SCH
CALEDONIA, NY
CHRISTIAN YOUTH THEATER
SPRING, TX
ALMA AREA SCHOOLS
ALMA, WI
BUNKER HILL MIDDLE SCHOOL
SEWELL, NJ
LOWNDES ACADEMY
LOWNDESBORO, AL
DENISE BRUCE
PORTLAND, OR
FOUNDATION ACADEMY
JACKSONVILLE, FL
WALTON CENTRAL SCHOOL
WALTON, NY
FAIRLESS LOCAL SCHOOL DISTRICT
NAVARRE, OH
HAMPSHIRE HIGH SCHOOL
HAMPSHIRE, IL
BERLIN JR. HIGH SCHOOL
BERLIN, NH
BULLIS CHARTER SCHOOL
LOS ALTOS, CA
HARLEQUINS SANDUSKY CMNTY THTR
SANDUSKY, OH
JACK MINER SENIOR PUBLIC SCH
SCARBOROUGH, ON CANADA
CONRADY JR HIGH SCHOOL
HICKORY HILLS, IL
BISHOP BRADY HIGH SCHOOL
CONCORD, NH
INTERNATIONAL SCHOOL BASEL
REINACH, SWITZERLAND
SWAMP MEADOW COMMUNITY THEATRE
FOSTER, RI
OGLETHORPE CHARTER SCHOOL
SAVANNAH, GA
ST JOAN OF ARC SCHOOL
EVANSTON, IL
PARDES JEWISH DAY SCHOOL
PHOENIX, AZ
ALTERNATIVE FAMILY EDUCATION
SANTA CRUZ, CA
NEWTON HIGH SCHOOL
NEWTON, IA
ASSUMPTION ST BRIDGET SCHOOL
SEATTLE, WA
EAGLEVIEW MIDDLE SCHOOL
COLORADO SPRINGS, CO
ST FRANCIS XAVIER SCHOOL
MEDINA, OH
ELLSWORTH ELEM/MIDDLE SCHOOL
ELLSWORTH, ME
THORNTON ARTS/SCI HUM COUNCIL
THORNTON, CO
ST MARY CATHOLIC SECONDARY
PICKERING, ON, CANADA
COAL CREEK CANYON K-8
GOLDEN, CO
CHRIST COMMUNITY MIDDLE SCHOOL
KIRKWOOD, MO
CENTRAL HIGH SCHOOL
WARTBURG, TN
ST PETER OF ALCANTARA
PORT WASHINGTON, NY
COVENANT CHRISTIAN ACADEMY
COLLEYVILLE, TX
WATHENA HIGH SCHOOL
WATHENA, KS
HICKMAN COUNTY HIGH SCHOOL
CLINTON, KY
ST MARY OF THE WOODS CHURCH
CHICAGO, IL
AMERICAN FORK JR HIGH SCHOOL
AMERICAN FORK, UT
LAURENS MIDDLE SCHOOL
LAURENS, SC
JUNO BEACH ACADEMY OF
CALGARY, AB, CANADA
CENTRAL BUCKS SCHOOL DISTRICT
DOYLSTOWN, PA
FORBUSH HIGH SCHOOL
EAST BEND, NC
Close
Other titles
you may like:
Other products you might be interested in:
Duo Practice & Performance
Perfect for forensics and acting students and their teachers and coaches, this book has 35 original dramatic duets.