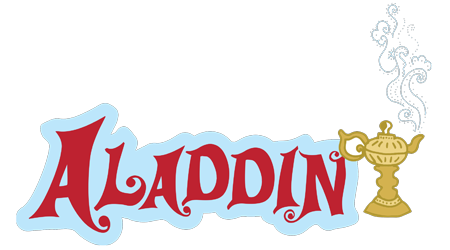 Adapted by Jack Perry and Robert Neil Porter
CAST: 4M, 7F
SET: Single set
TIME: About 60 minutes
Script: $6.25

ROYALTY:
$45 First Performance
$45 Each Additional Performance

This is the classic story of Aladdin and his magic lamp. Aladdin discovers a magic lamp and, with the aid of the Genie, wins the hand of the lovely Princess Balmyra. But the evil Turkish Magician gains control of the lamp and instructs the Genie to bring the Princess to him in his palace. Aladdin (with the help of Balmyra's cat, Tiger Lily) finds the magician and rescues the Princess. The script includes two musical numbers which can be used with a string accompaniment, or presented as a poetic dialogue.
Additional products available:

Production Photos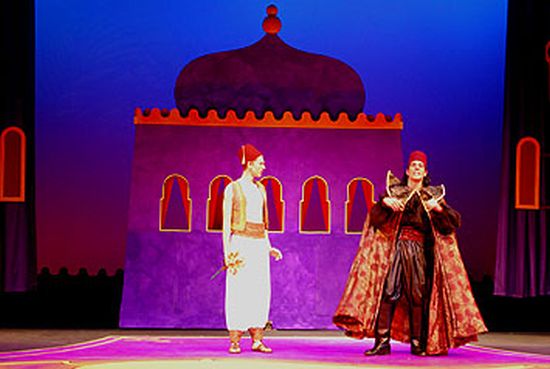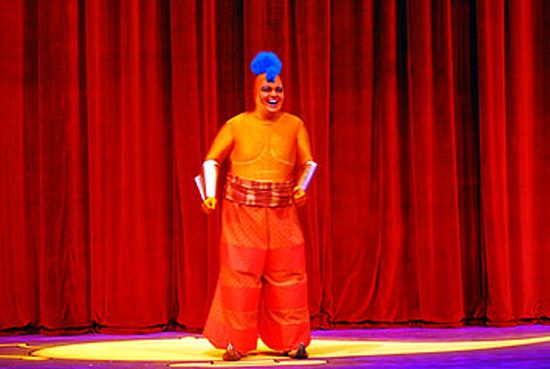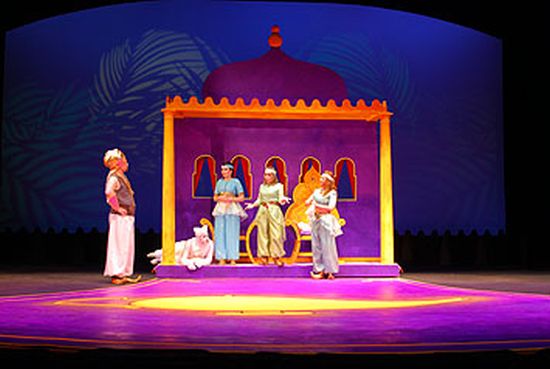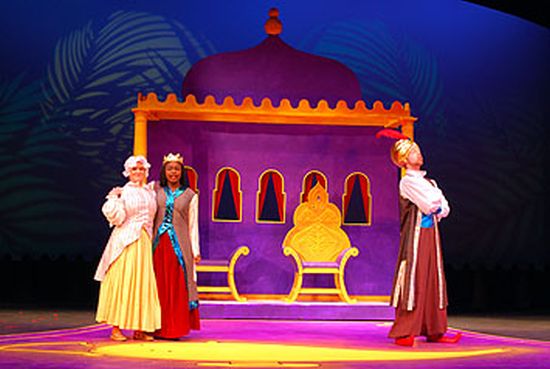 Use this script sample — including the cast list, production notes and several pages of the actual script — to help you select your next show. It is open in a new browser tab or window. To open it again, please click here.
Close
GLYNN MIDDLE SCHOOL
BRUNSWICK, GA
ASSUMPTION OF THE BVM SCHOOL
WEST GROVE, PA
TERESA SEARS
OTEGO, NY
BUSSEY MIDDLE SCHOOL
GARLAND, TX
RONCALLI HIGH SCHOOL
INDIANAPOLIS, IN
UNIV OF WISCONSIN-WHITEWATER
WHITEWATER, WI
WILLIAMSTOWN HIGH SCHOOL
WILLIAMSTOWN, WV
PALO DURO HIGH SCHOOL
AMARILLO, TX
CMNTY COUNCIL FOR THE ARTS
PANA, IL
MELON PATCH PLAYERS
LEESBURG, FL
CHESTERMERE LAKE MIDDLE SCHOOL
CHESTERMERE, AB, CANADA
BUFFETT MAGNET MIDDLE SCHOOL
OMAHA, NE
UNIVERSITY OF NORTHERN IOWA
CEDAR FALLS, IA
SNOW CAMP OUTDOOR THEATRE
SNOW CAMP, NC
WARDLAW ACADEMY
JOHNSTON, SC
WARMINSTER COMMUNITY THEATRE
WARMINSTER, PA
WESTOVER SENIOR HIGH SCHOOL
FAYETTEVILLE, NC
NORTHEAST MIDDLE SCHOOL
READING, PA
OASIS INTERNATIONAL SCHOOLS
SOUTHAVEN, MS
ARKANSAS STATE UNIVERSITY
STATE UNIVERSITY, AR
ST JOHN BOSCO SCHOOL
SAN ANTONIO, TX
FIRE MOUNTAIN ARTS COUNCIL
MORTON, WA
HURRAH PLAYERS, INC
NORFOLK, VA
SOUTH LAKES HIGH SCHOOL
RESTON, VA
HOLY CROSS SCHOOL
WEBSTER, MN
LIGHTHOUSE CHRISTIAN HIGH SCH
TWIN FALLS, ID
W G MURDOCH SCHOOL
CROSSFIELD, AB, CANADA
SUNNYSIDE PUBLIC SCHOOL
KITCHENER, ON, CANADA
ST GREGORY THE GREAT SCHOOL
SAN ANTONIO, TX
ST ANTHONY SCHOOL
DAYTON, OH
MARICOPA UNIFIED SCHOOL DIST
MARICOPA, CA
JACKSON COUNTY HIGH SCHOOL
MCKEE, KY
ST MARY'S ACADEMY
EDMONDSTON, NB, CANADA
MESABI/RANGE CMNTY & TECH COLL
VIRGINIA, MN
HERMON DEKALB CENTRAL SCHOOL
DEKALB JUNCTION, NY
GRENFELL HIGH SCHOOL
GRENFELL, SK, CANADA
ST LEO'S ELEM SCHOOL
LEOMINSTER, MA
GOOD SHEPHERD MONTESSORI SCH
MCKINNEY, TX
Close
Different versions of the
same or similar story:
Other titles
you may like:
Other products you might be interested in:
Multicultural Folktales
Introduce your students to other countries and cultures through the traditional folk and fairy tales in these engaging readers theatre scripts.