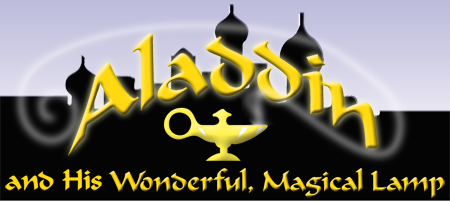 Book adapted by Tim Kelly
Music and lyrics by Pam Hughes

Hop on a flying carpet to visit the exciting city of Shammar in Old Arabia! Meet the adventurous Aladdin and his mischievous monkey, Alakazam. Aladdin's mother and sister are at their wit's end trying to get Aladdin to settle down. It's not easy, especially with merchants and neighbors complaining about Aladdin's tricks. One day Aladdin meets the beautiful Princess Jasmine and vows he will marry her. Aladdin, however, is visited by the evil magician, Jammal, and his wicked sister, Halima. They know that only a boy named Aladdin can enter the mysterious cave, which houses a strange lamp containing a genie who will grant Jammal all the power he craves. Read more...
Additional products available:
Director's book: $20.00
Piano score: $25.00
Vocal score: $8.00
Production-rehearsal CD set: $65.00
CD sampler F: $4.00

Production Photos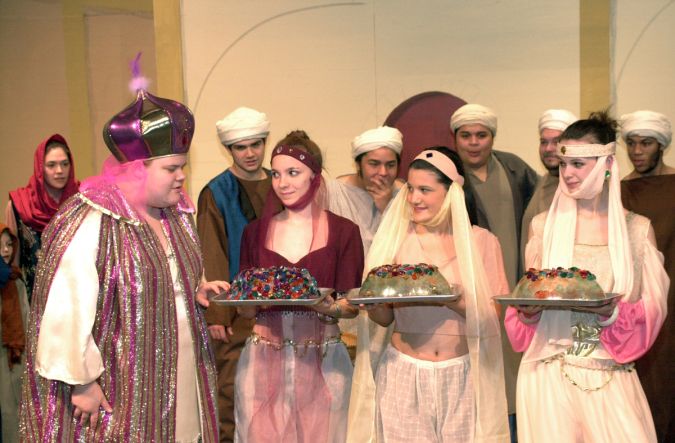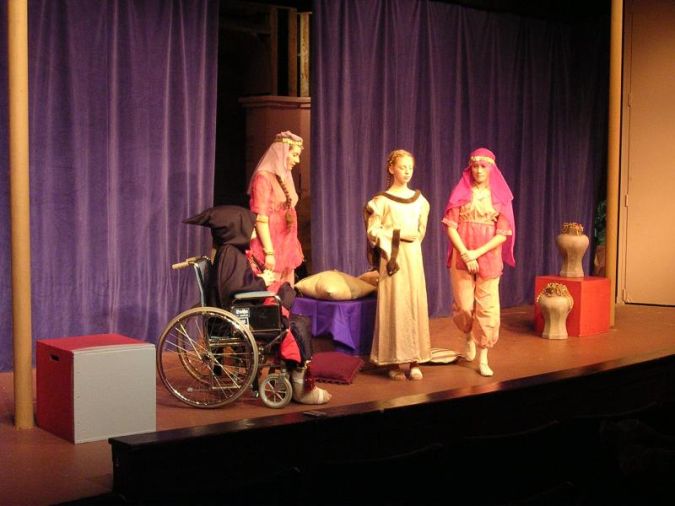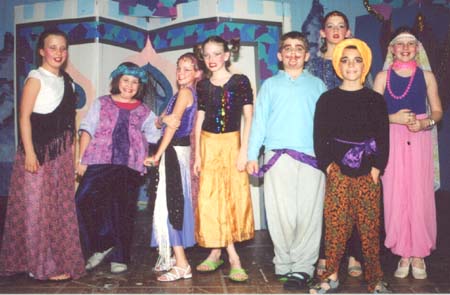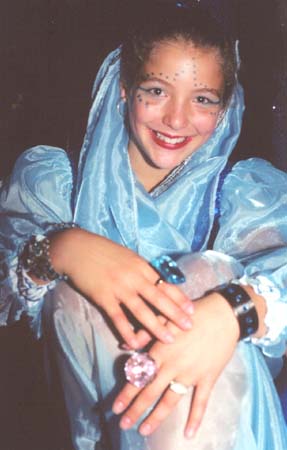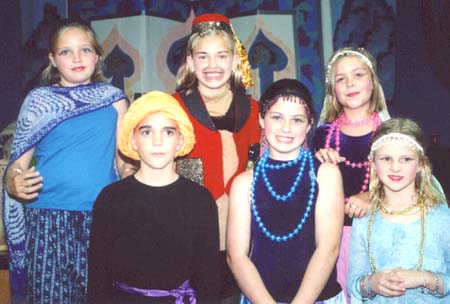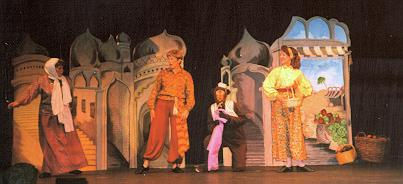 Use this script sample — including the cast list, production notes and several pages of the actual script — to help you select your next show. It is open in a new browser tab or window. To open it again, please click here.
Close
EAST LANSING HANNAH CMNTY CTR
EAST LANSING, MI
PENNY PETERSEN
SUN LAKES, AZ
YORK PUBLIC SCHOOLS
YORK, NE
UNITARIAN UNIVERSALIST
PRINCETON, NJ
LINTON MIDDLE SCHOOL
PITTSBURGH, PA
RACINE LUTHERAN HIGH SCHOOL
RACINE, WI
YANKTON CHILDREN'S THEATRE CO.
YANKTON, SD
BRISBANE ARTS THEATRE
RED HILL, QLD AUSTRALIA
SPRING GARDEN SCHOOL
NUTLEY, NJ
AXTELL PARK MIDDLE SCHOOL
SIOUX FALLS, SD
ANNA ANDERSON
CARSON CITY, NV
POPLAR HIGH SCHOOL
POPLAR, MT
CINDY VERIAN
HOLLY SPRINGS, NC
WELLSVILLE YMCA
WELLSVILLE, NY
VICKIE CULLIGAN
WEST HARTFORD, CT
WESTERN PINES MIDDLE SCHOOL
WEST PALM BEACH, FL
ST ANTHONY OF PADUA SCHOOL
PARMA, OH
ST ANDREW THE APOSTLE SCHOOL
NEW ORLEANS, LA
ROSE HILL SCHOOL
ALEXANDRIA, VA
FATHER LACOMBE HIGH SCHOOL
CALGARY, AB, CANADA
SHASTA ELEMENTARY SCHOOL
CHICO, CA
ARTISTIC CHILDRENS THEATRE
PARKTON, MD
VALLIANT HIGH SCHOOL
VALLIANT, OK
FUNDACION EDUCATVA MONTELIBANO
MONTELIBANO COLOMBIA
GREEN RIVER COMMUNITY COLLEGE
AUBURN, WA
CARROLLTON PARKS & RECREATION
CARROLLTON, GA
HONG KONG 3 ARTS MUSICAL INST.
HONG KONG, HONG KONG
G HAROLD ANTRIM ELEMENTARY
PNT PLEASANT BEACH, NJ
SING HOSANNA!
BUTLER, PA
ST THOMAS MORE SCHOOL
DECATUR, GA
ST ALPHONSUS CATHOLIC SCHOOL
LANGDON, ND
BLUEBERRY SCHOOL
STONY PLAIN, AB, CANADA
BREWSTER ISD 513
BREWSTER, MN
GROTON CENTER FOR THE ARTS
GROTON, MA
THE COLUMBUS SCHOOL
MIAMI, FL
GRAHAM CREEK ELEMENTARY
COMMISKEY, IN
HOLY INFANT SCHOOL
BALLWIN, MO
IONE COMMUNITY SCHOOL
IONE, OR
MERIDIAN LITTLE THEATRE
MERIDIAN, MS
STAFFORD HIGH SCHOOL
STAFFORD SPRINGS, CT
HARDING MIDDLE SCHOOL
CEDAR RAPIDS, IA
JAMES WORKMAN MIDDLE SCHOOL
CATHEDRAL CITY, CA
SOUTH JR HIGH SCHOOL
LAWRENCE, KS
STEEL BEAM THEATRE
ST CHARLES, IL
WEST BUSSELTON PRIMARY SCHOOL
WEST BUSSELTON, WA, AUSTRALIA
BUCKS COUNTY PLAYHOUSE
NEW HOPE, PA
SPINDRIFT SCHOOL OF PERF ARTS
PACIFICA, CA
GOLDINGTON MIDDLE SCHOOL
BEDFORD, UNITED KINGDOM
STAGE HOUSE MUSICAL THEATRE
SAN BERNARDINO, CA
PETITE PLAYERS
ELIZABETH, PA
Close
Different versions of the
same or similar story:
Other titles
you may like:
Other products you might be interested in:
Everything About Theatre
The history, the crafts and the art of the stage are presented in eighteen easy-to-understand units. Each craft is described with examples, illustrations and hands-on exercises where appropriate.
Play Directing in the School
This text details the world of producing plays in schools. Whether it's budgeting, scheduling or the motivating and management of students, this is a must for anyone in an educational institution.
Listen to a clip of every song from the show
Click on a song title to play that sound clip. Click again to pause, or simply click another title to switch songs.
Can't hear the song samples? Click here for a different song format.
Hear what directors and critics are saying:
Loved the opening number, very colorful and high energy.
...a lively and entertaining musical. The music is very good-melodic, rhythmic, with just the right Eastern flavor.

Children's Book and Play Review