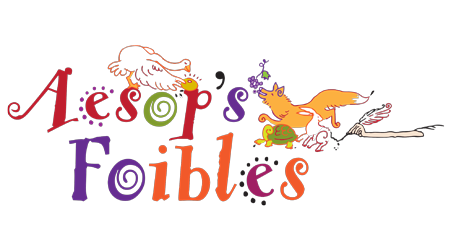 By Flip Kobler and Cindy Marcus
CAST: 9M, 6F, plus 4 roles that can be either
SET: Extremely simple set
TIME: About 65 minutes

Script: $6.00 E-view script also available

ROYALTY:
$45 First Performance
$45 Each Additional Performance

Aesop's fables have never been presented in a more hilarious and clever format, sure to entertain audiences of all ages! Our play begins as young Aesop explains to the audience about his problem of constantly hearing annoying voices in his head, which come to life as hysterical characters onstage that only Aesop (and your audience!) can see and hear. With the resentful Fox, the egomaniac Hare, the sluggish Tortoise, the zen-like Grasshopper and the Aunt (yes, his mother's sister!) and many more, Aesop can hardly think straight, so his parents take him to the doctor. Freaking out with frustration, Aesop wields a cane at the poor old doc, who's bent on sending the young slave away to the loony bin. Read more...
Additional products available:
E-view script also available
Close
EMMONS SCHOOL DISTRICT 33
ANTIOCH, IL
MESILLA ELEMENTARY
LAS CRUCES, NM
KARYN BIGGER
GREER, SC
SUSAN JAMES
ACWORTH, GA
RJ GREY JUNIOR HIGH
ACTON, MA
JESSICA WISNIEWSKI
ROMEOVILLE, IL
RISING SUN HIGH SCHOOL
NORTH EAST, MD
ELDEN STREET PLAYERS
HERNDON, VA
BUCKEYE UNION HIGH SCHOOL
BUCKEYE, AZ
GREENHORN VALLEY PLAYERS
RYE, CO
WEST CEDAR ELEMENTARY SCHOOL
WAVERLY, IA
DENVER MONTCLAIR INTL SCHOOL
DENVER, CO
STUDIO EAST
KIRKLAND, WA
FREDERICK AREA SCHOOL
FREDERICK, SD
RICHMOND HIGH SCHOOL
RICHMOND, CA
JOHN GLENN MIDDLE SCHOOL
INDIO, CA
WOODBRIDGE MIDDLE SCHOOL
WOODBRIDGE, VA
TUTTLE HIGH SCHOOL
TUTTLE, OK
CHALLENGER SCHOOL
LEHI, UT
WAXAHACHIE COMMUNITY THEATRE
WAXAHACHIE, TX
STAAR THEATRE
PULASKI, TN
GEORGE MCDOUGALL HIGH SCHOOL
AIRDRIE, AB, CANADA
UPPER ROOM PLAYHOUSE
PORT JERVIS, NY
INTL SCHOOL OF DUESSELDORF
DUESSELDORF, GERMANY
CHELSEA MIDDLE SCHOOL
CHELSEA, AL
ST MARY'S SCHOOL
OWATONNA, MN
LIVSEY ELEMENTARY SCHOOL
TUCKER, GA
CRESTON MIDDLE SCHOOL
INDIANAPOLIS, IN
SACRED HEART CHURCH
NEW PHILADELPHIA, OH
ALLEN PARK HIGH SCHOOL
ALLEN PARK, MI
HOLY FAMILY ACADEMY
BROOKS, AB, CANADA
POYNTER MIDDLE SCHOOL
HILLSBORO, OR
CHRISTIAN FAMILY THEATRE
DALLAS, GA
MATTITUCK JR / SR HIGH SCHOOL
MATTITUCK, NY
INTERNATIONAL COMMUNITY SCHOOL
WINTER PARK, FL
TINORA HIGH SCHOOL
DEFIANCE, OH
Close
Other titles
you may like:
Other products you might be interested in:
Dramatizing Myths and Tales
Explore the richness of five cultures with five scripts. Dramatic illustrations set the scene for each culture, and follow-up questions explore the history and theatrical traditions of each one.
From Atalanta to Zeus
Greek mythology traditionally conveys a blend of excitement, intrigue, scandal and fun.
Hear what directors and critics are saying:
Aesop's Foibles was one of the best plays we have ever done! It was very cleverly written, and the kids really enjoyed all aspects of the production! Stacey Mulet, St. Mary's School, Owatonna, MN