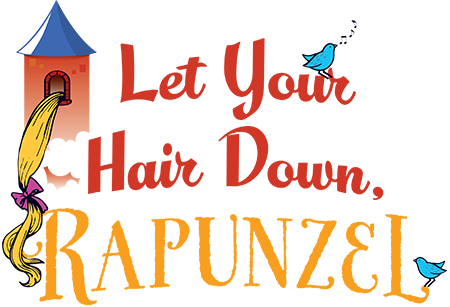 Book by Karen Boettcher-Tate
Music and lyrics by Scott DeTurk
'It's time to let your hair down, have a little fun,' chimes the company in the opening number of this fresh, vivacious musical adaptation of a popular tale. Rene Shwartzbuckle sings to her husband, Walt, about her zany obsession for a turnip-like vegetable called 'rapunzel.' After spotting a delectable patch of the plant in Witch Izwitch's garden, Rene sends Walt to 'borrow' some. The irritated witch has her malicious henchmen, the Glumpwarts, terrorize Walt. In fear, he promises to give his firstborn child to the witch in exchange for his own freedom. Your audiences are then taken many years ahead to visit the beautiful Shwartzbuckle child... Rapunzel. (Now you know where the name comes from!) It's our heroine's 18th birthday, and Witch Izwitch follows through with her promise and places poor Rapunzel alone in a tower. From here, an exuberant, amusing rescue attempt begins! (As for the 'mane' ingredient of the show, don't worry! The famous 'hair climbing' scene is a breeze to stage!) Can Prince Llewellyn persevere over the powers of evil? Will the fresh, hysterical characters (such as the sages Parsley, Rosemary and Thyme) be able to help? And can Rapunzel convince the witch that it's okay to be unique? Filled with an abundant supply of delightful songs like 'Just Because You're Different,' 'I'm a Nut' and, of course, 'Let Your Hair Down,' this show is zestful entertainment!
Additional products available:
Director's book: $22.50
Piano score: $20.00
Vocal score: $10.00
Production-rehearsal CD set: $75.00
CD sampler A: $4.00

Production Photos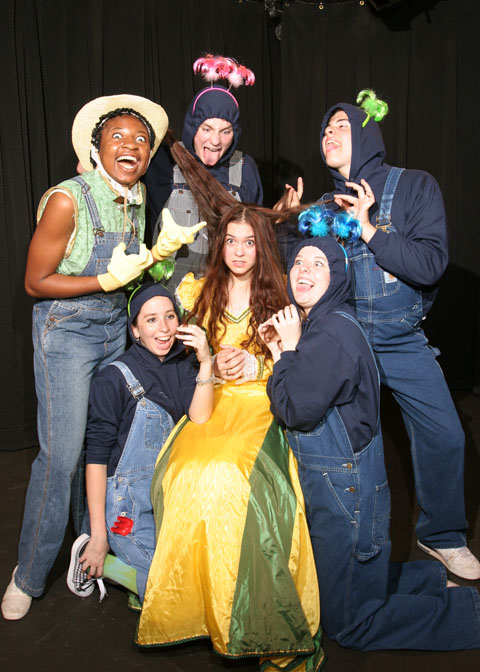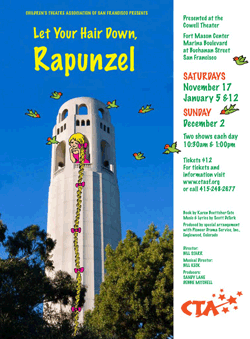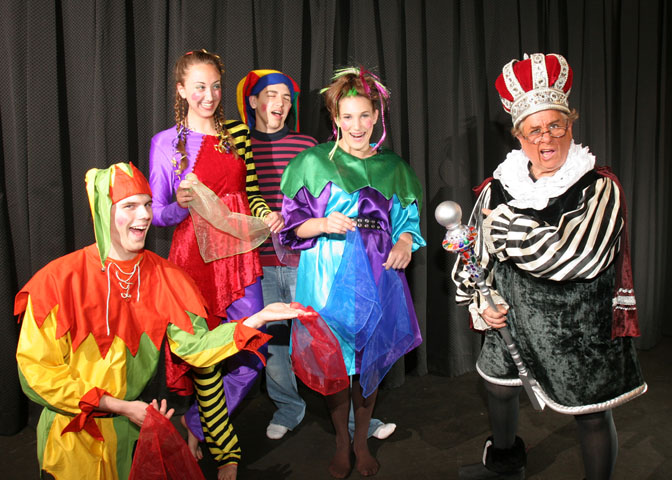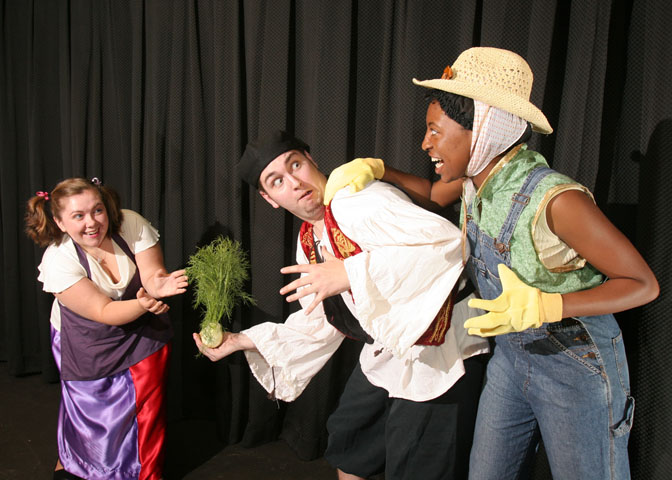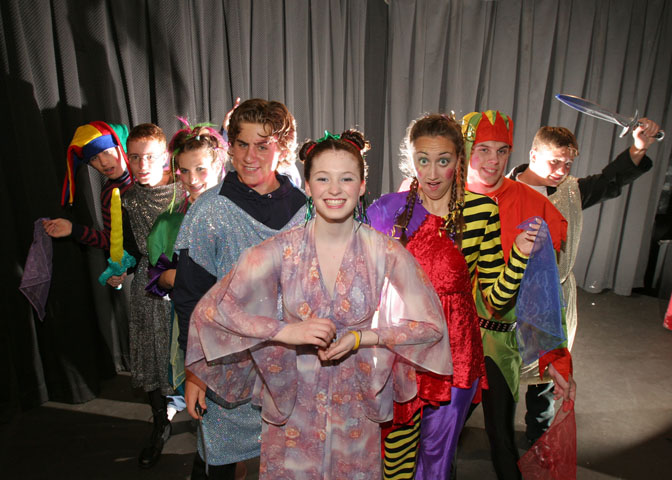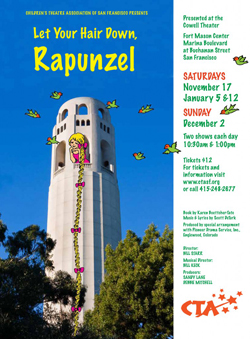 Use this script sample — including the cast list, production notes and several pages of the actual script — to help you select your next show. It is open in a new browser tab or window. To open it again, please click here.
Close
BARTLESVILLE PUBLIC SCHOOLS
BARTLESVILLE, OK
HOLY INFANT SCHOOL
BALLWIN, MO
WILKINSON ELEMENTARY SCHOOL
MIDDLEBURG, FL
FREEDOM HILL ELEMENTARY
VIENNA, VA
CENTER FOR THE ARTS
MANASSAS, VA
WELLSVILLE YMCA
WELLSVILLE, NY
ROCKWALL COMMUNITY PLAYHOUSE
ROCKWALL, TX
CELIA MCCOY
RACINE, OH
MOUNT OLIVE LUTHERAN SCHOOL
LAS VEGAS, NV
FLAGLER COLLEGE
SAINT AUGUSTINE, FL
CHILDREN'S THEATRE ASSOCIATION
SAN FRANCISCO, CA
LIBERTY ELEMENTARY SCHOOL
CANTON, GA
FIRST BAPTIST CHURCH SCHOOL
SHREVEPORT, LA
FT LAUDERDALE CHILDREN'S THTR
FT LAUDERDALE, FL
PORT LEYDEN ELEMENTARY
PORT LEYDEN, NY
CENTRAL PIEDMONT COMMUNITY
CHARLOTTE, NC
CHARLOTTE PLAYERS INC
PORT CHARLOTTE, FL
HOLY CHILD CATHOLIC SCHOOL
BRIDGEVILLE, PA
COLUMBIA MIDDLE SCHOOL
AURORA, CO
CENTER THEATRE
DOVER-FOXCROFT, ME
SAVANNAH CHILDREN'S THEATRE
SAVANNAH, GA
ST FRANCIS SCHOOL
REGINA, SK, CANADA
CURTAIN CALL CHILDRENS THEATRE
KOKOMO, IN
HARMONIA SCHOOL OF MUSIC & ART
VIENNA, VA
MID OHIO VALLEY PLAYERS
MARIETTA, OH
AMERICAN FORK ARTS COUNCIL
AMERICAN FORK, UT
ORCHARD PERFORMING ARTS CO INC
GREENSBURG, PA
VALLEY PERFORMING ARTS
WASILLA, AK
BEAVER DAM AREA CMNTY THEATRE
BEAVER DAM, WI
LAREDO LITTLE THEATRE
LAREDO, TX
STUDIO B PERFORMING ARTS
HIGHLAND VILLAGE, TX
ST ANDREW THE APOSTLE SCHOOL
CLIFTON, NJ
CHAMPAIGN URBANA JR WMNS CLUB
CHAMPAIGN, IL
ALL ABOUT MUSIC CHILDRENS THTR
MOKENA, IL
ROCKLIN YOUTH THEATRE CO
ROCKLIN, CA
THEATRE LAWRENCE
LAWRENCE, KS
TWILIGHT THEATRE TROUPE INC
PEACHTREE CITY, GA
SALEM CENTRAL SCHOOL
SALEM, NY
WM E DOAR JR PUBLIC CHARTER
WASHINGTON, DC
NESHANNOCK HIGH SCHOOL
NEW CASTLE, PA
NEW LONDON BARN PLAYHOUSE
NEW LONDON, NH
POPE JOHN PAUL II CATHOLIC
COATESVILLE, PA
Close
Different versions of the
same or similar story:
Other titles
you may like:
Other products you might be interested in:
Listen to a clip of every song from the show
Click on a song title to play that sound clip. Click again to pause, or simply click another title to switch songs.
Can't hear the song samples? Click here for a different song format.
Hear what directors and critics are saying:
Easy to expand chorus and to cast first time performers as well as experienced.